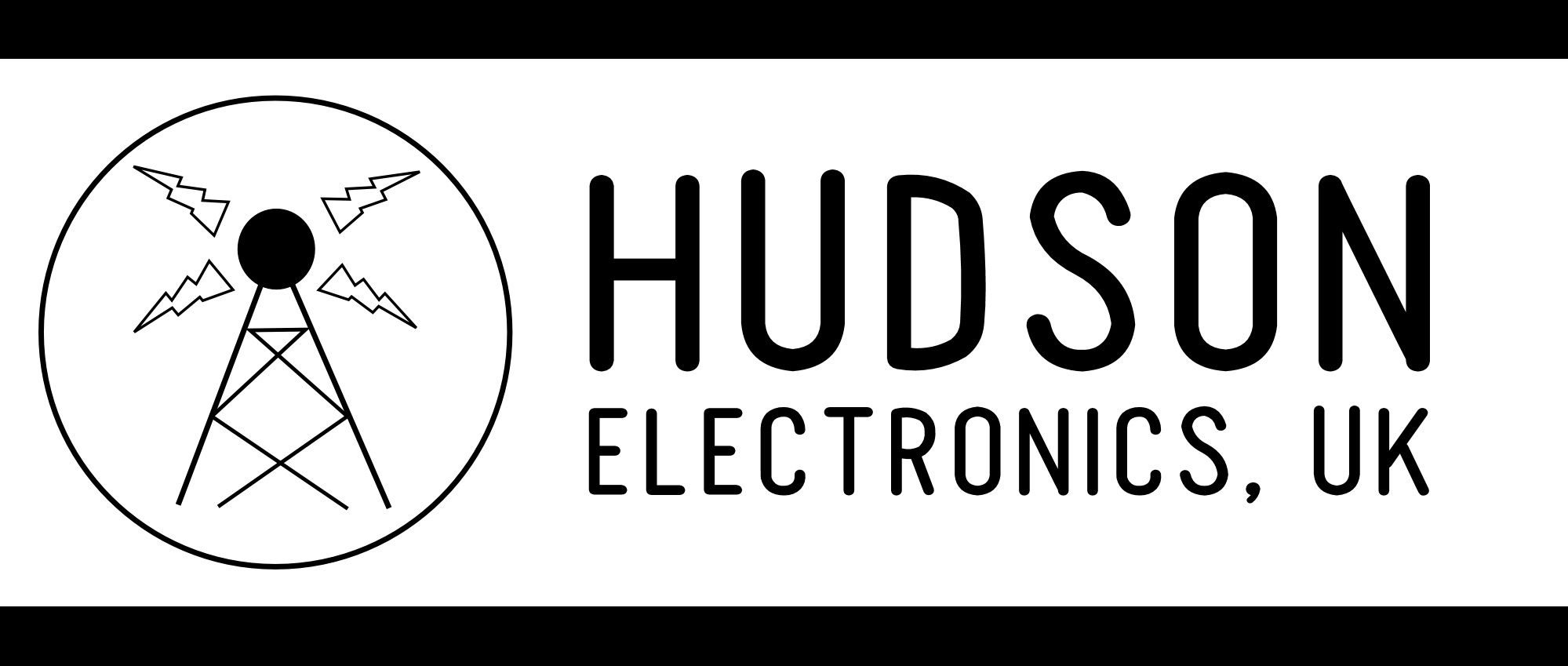 ---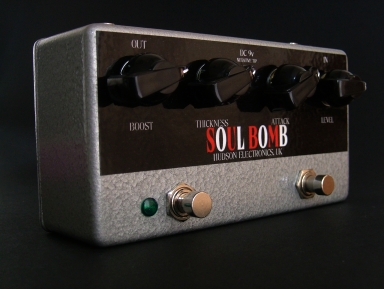 Soul Bomb
Germanium Boost and Fuzz

DISCONTINUED AS OF MARCH 2018
AVAILABILITY LIMITED TO DEALER STOCK ONLY


The Soul Bomb takes a classic germanium two transistor fuzz and cascades it in to our Gospel Bomb germanium boost.
The Soul side is a fuzzy mix-up of the Vox® Bender and an Arbiter® Fuzz Face. These two classic pedals have been blended together, resulting in a warm fuzz with more than a hint of rasp and cut when the attack knob is at full tilt. The Soul side can deliver medium gain fuzz tones as well as cleaning up superbly with a twist of the volume control on your guitar. Smooth, but with plenty of bite to keep the sound interesting with lots of sustain and killer fuzz!
The Bomb side is a tweaked version of the classic 'Rangemaster' germanium boost. This pedal will kick the front end of your amp into high gear and send you into tonal bliss. Any tube amp that has a pretty sensitive preamp section will light up when you drop the bomb. Amps that I like to use this pedal on include older Marshall's®, Vox® AC models, Tweed & Blackface Fender's® and pretty much any small combo from the 50's and early 60's.
You can run the fuzz or the boost independently or using the Soul in conjunction with the Bomb will create fuzz tones that you swear will blow up your amp. We're talking HUGE!!!!!
Handwired from scratch onto a vintage-style stripboard, using the highest quality components, each Soul Bomb comes loaded with CITEC pots, a heavy duty Alpha switch, Neutrik Jacks, carbon film resistors, WIMA / BC / Vishay capacitors and other high quality components.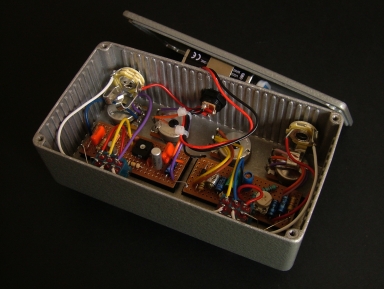 Controls:
LEVEL - Controls the overall volume of the pedal.
ATTACK - Controls the intensity of the fuzz effect. For a wider range of 'cleaner' tones try rolling back the volume control on your guitar.
BOOST - Controls the output of the boost section.
THICKNESS - Progressively adds more low and mid range frequencies to the boost section. Allowing you to go from vintage 'Rangemaster' bite to thick full frequency boost.
Power:
The Soul Bomb has the added flexibility of a 2.1mm 9v DC socket. Whilst we prefer the tone of the pedal running on a zinc battery, the DC socket is a useful addition to pedal board users.
Dimensions:
(including knobs and jacks)
150 x 80 x 70 mm
Full two year Warranty
Soul Bomb Manual
---
Vox® is a registered trademark of Vox Amplification Ltd.
Arbiter® is a registered trademark of Dunlop Manufacturing Inc.
Marshall® is a registered trademark of Marshall Amplification plc.
Fender® is a registered trademark of Fender Musical Instruments.
Hudson Electronics UK nor European Musical Imports has any affiliation whatsoever with any of these companies.